Brookhaven's Association of Students And Postdocs (ASAP) is for all postdocs, students and early career scientists. Our aim is to improve the quality of life of our members, and to act as a magnet to bring together students and postdocs in a social setting. The socials, meet ups, sharing and interaction is key to a successful career at BNL! Please share this with postdocs, students & early career scientists in your group. Support your ASAP Board members who are working hard for you!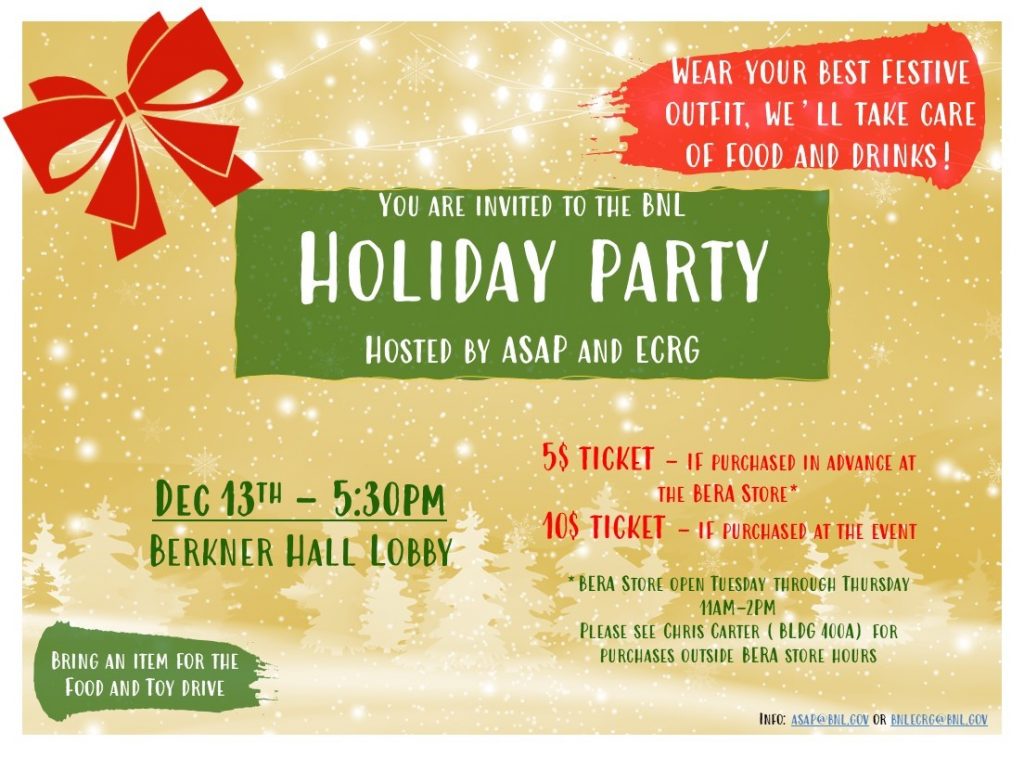 We hope to see you all at 5:30pm on December 13th for our Holiday Social, hosted by ASAP and ECRG.
Please see below for a few helpful reminders.
The BERA store will be selling $5 tickets Tuesday-Thursday from 11am-2pm. If you would like to purchase tickets outside of these hours, please see Christine Carter in Bldg. 400 or email @Carter, Christine B.
Pending availability, tickets will also be available at the door on the day of the event for $10 each
Proof of Date of Birth is required for ALL ticket purchases.
We encourage you to wear your best festive attire as we will have a photographer at the event!
On behalf of both ASAP and ECRG, thank you!
NEWS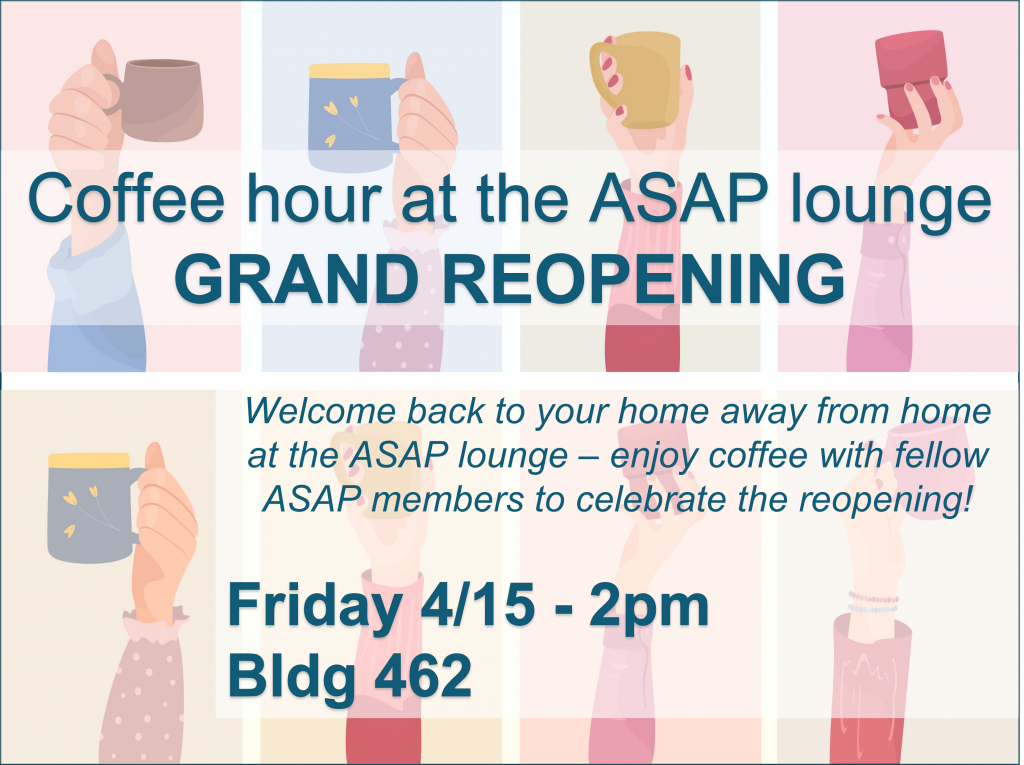 ASAP lounge reopening & Coffee Hour – 4/15 @ 2pm – Bldg 462
Come join us and check out all the upgrades at the ASAP lounge!
Slice of Science Socials – join us for a chat & a slice every 2nd Tuesday of the month!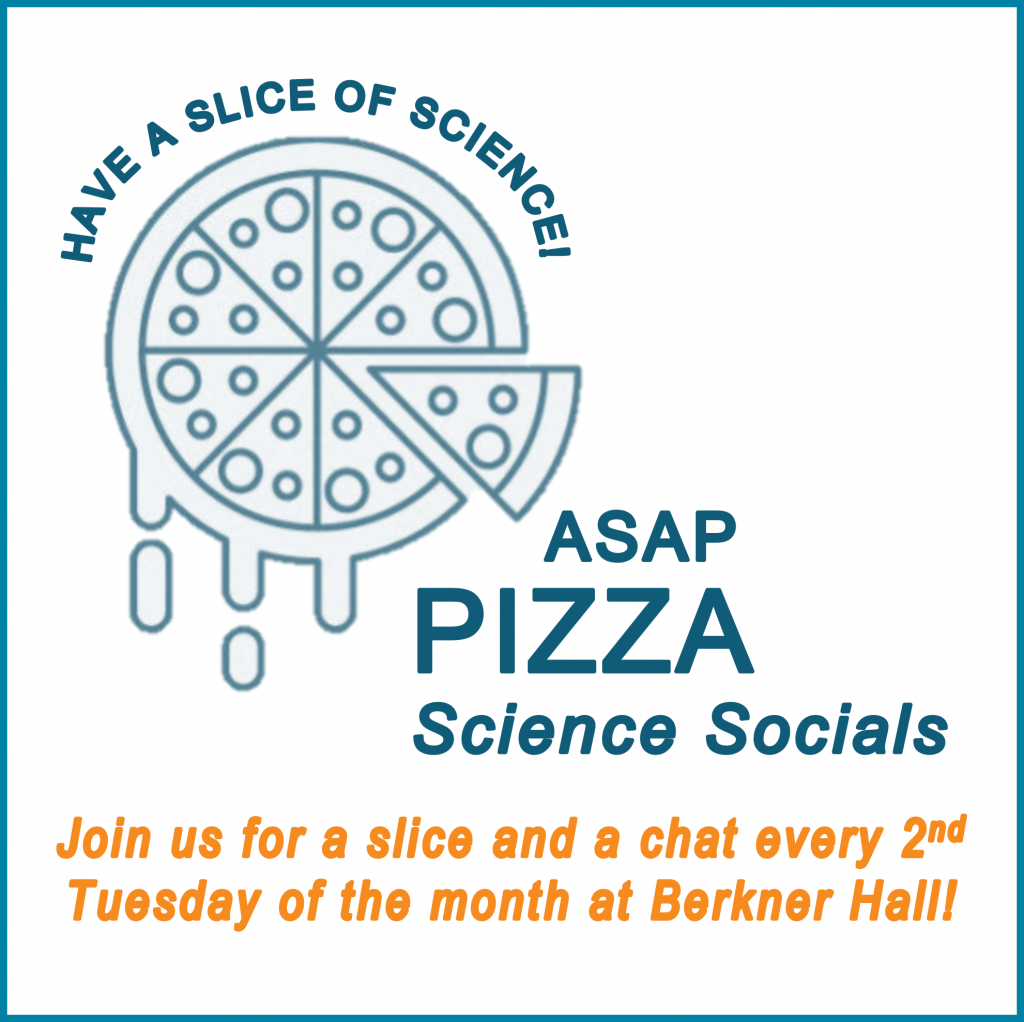 Starting February 8th 2022, join us for pizza lunches every 2nd Tuesday of the month in Room B at Berkner Hall (Bldg. 488) with your fellow post-docs and students! After much isolation as post-docs and students over the last 2 years, ASAP is providing a safe and healthy environment for socialization among friends where we can connect, socialize, and learn more about one another. During these lunches, we will invite a variety of speakers to present on topics to help young researchers succeed at BNL! Stay tuned for upcoming speaker announcements.
PAST EVENTS
Slice of Science Social 4.12.22
ASAP hosted guest speakers Poorni Upadhya (BNL Office of Research) and Dorene Price (BNL Legal Office) for an enlightening talk on Technology Transfer at BNL at Berkner Hall with a focus towards how Intellectual Property is managed at Brookhaven. The talk provided a glance at the process, the DOE mission, the lifecycle of lab to technology and stressed on the involvement of a community of researchers and entrepreneurs to make it a successful endeavor. The event proved enriching and exciting, bringing in several questions from the postdoc and student community.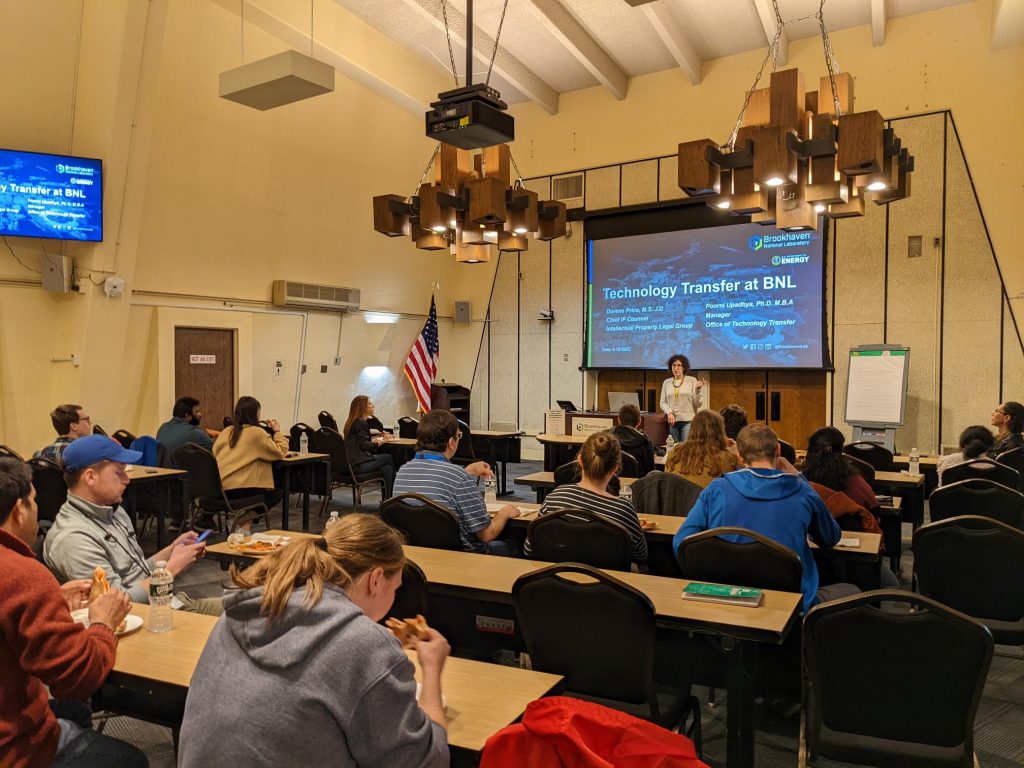 Tax Assistance For Visiting Foreign Nationals Through Stony Brook University – March 2 & March 9 2022
SBU Visa and Immigration services teamed up with Sprintax to offer a Non-Resident Tax Workshop. The workshop will cover basic U.S. tax requirements for non-resident international students and scholars and a brief introduction to the Sprintax system. Topics covered will include: who must file something with the IRS (everyone!), what to file, implications of not filing and where to get help.
To attend virtually on March 2 at 7pm ET register by clicking here. After registering, you will receive a confirmation email containing information about joining the webinar.
You can also attend in person at SAC Auditorium at Stony Brook University on March 9 at 1pm ET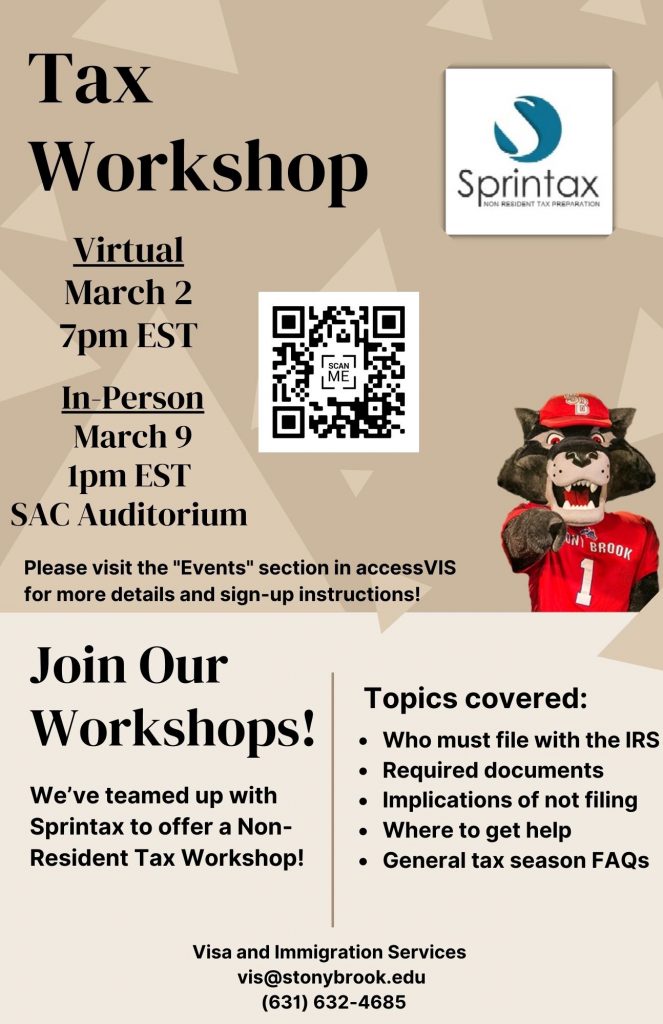 2021 ASAP Career Day
Registration for the 2021 Association of Students and Posdocs (ASAP) Career Day is now open and will be held on Tuesday, May 25 from 10:00 a.m. to 2:00 p.m. via Zoom
Will feature the following:
opening remarks by EBNN ALD Martin Schoonen;
a talk on the application and hiring process in industry by NSLS-II user Jean Jordan-Sweet;
a career panel with members from academia, industry, and BNL;
a workshop lead by HR on CV/resume tips and interviewing techniques to help you put your best foot forward with your next professional role; and
one-on-one CV-resume reviews and discussion breakout sessions.
Please note that registration closes at 5:00 p.m. on Monday, May 17 and that breakout sessions will be scheduled on a first come first serve basis.
Note: You may optionally submit your CV or resume as an attachment during registration.
---
Stony Brook University offers a shuttle bus from the University to BNL for Students and Post-docs. You are required to show your BNL ID badge in order to board the bus. View schedule
BNL is a special place to work. View a list of BNL perks & benefits offered for 2022